LONBEST E-writing blackboard. Eco Writing, Eco Teaching.
2023/08/22 17:30
     LONBEST Group unveils a new generation of E-writing Blackboard, leading the way into a new era of smart education with its outstanding features and innovative technology. This blackboard not only offers exceptional writing performance and environmental advantages but also provides users with a remarkable user experience.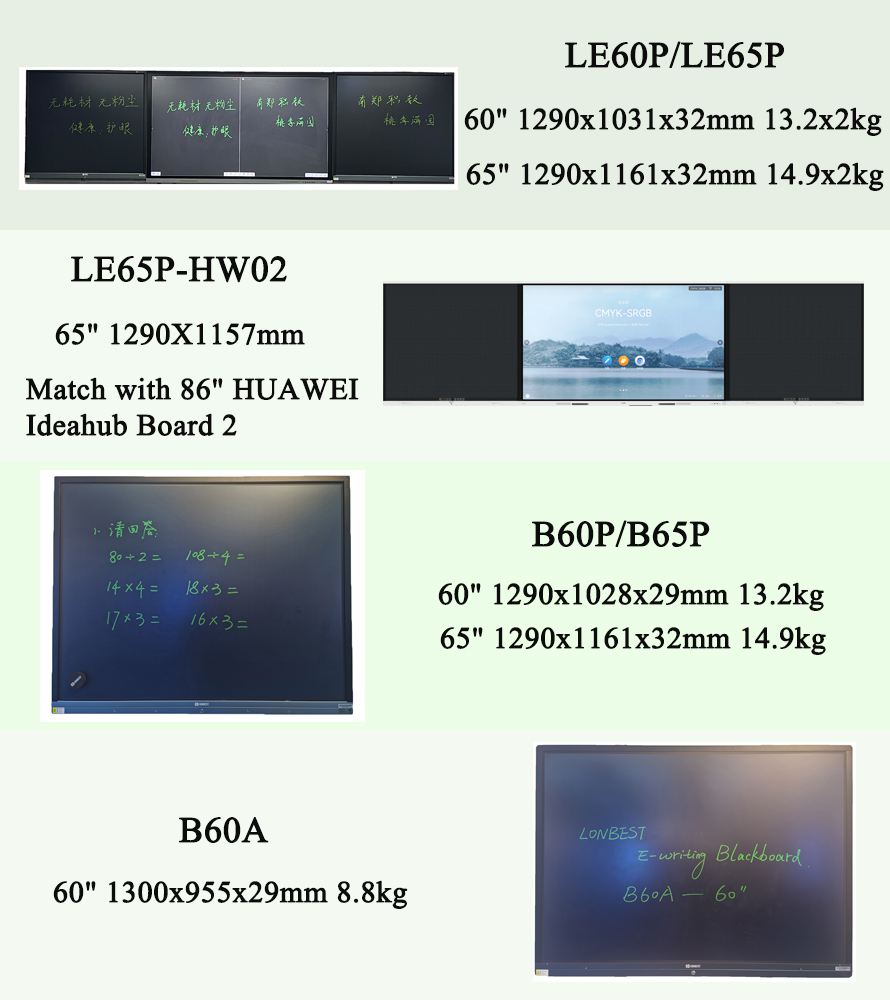 Compared with traditional blackboards, this LCD writing blackboard relies on pressure to change the arrangement of liquid crystal molecules to realize the writing function. This means that the user does not need to use any consumables, and can use any moderately hard object for writing, even fingernails, avoiding the problem of dust pollution and eliminating the health hazards posed by dust to teachers and students. It reproduces the comfort of writing with pen and paper, and brings users a better writing experience.

     In terms of display effect, the LCD writing blackboard adopts the method of reflecting natural light from the outside to display green handwriting. No backlight is needed, and it is not easy to get tired after watching for a long time, which protects the eyesight of users. The written handwriting can be seen at a distance of up to 40 meters, with a viewing angle of 145° and a contrast ratio of up to 680:1, ensuring that the content is clearly visible.

      The electronic blackboard has the functions of synchronous transmission and one-key saving. These functions greatly improve the convenience and efficiency of using the blackboard for teaching or presentation. Through synchronous transmission, the content written or displayed on the electronic blackboard can be transmitted to other devices in real time, such as computers or electronic large screens. This enables viewers or participants to simultaneously view and follow what is being presented, ensuring a seamless and engaging learning or presentation experience. In addition, the electronic blackboard also has a one-key save function, and users can easily save all the content created or displayed on the blackboard with a single push of a button. It is convenient for subsequent study and review.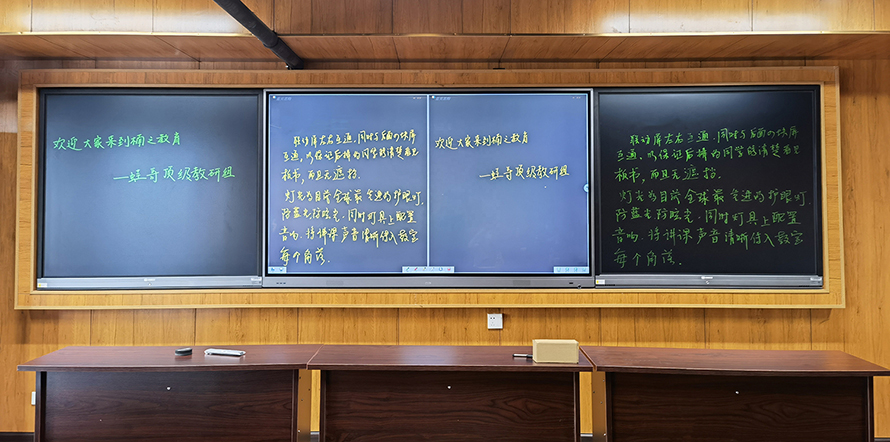 In addition to excellent writing performance, this E-writing Blackboard also has two erasing methods. The one-key erasing function can be realized through the erasing button equipped on the front, and the handwriting can be erased instantly without time-consuming by pressing it. In addition, users can also use the eraser and palm to perform partial erasing. The accuracy of erasing parameters is less than 10mm*10mm, and the erasing delay does not exceed 60ms, allowing users to perform erasing operations more conveniently.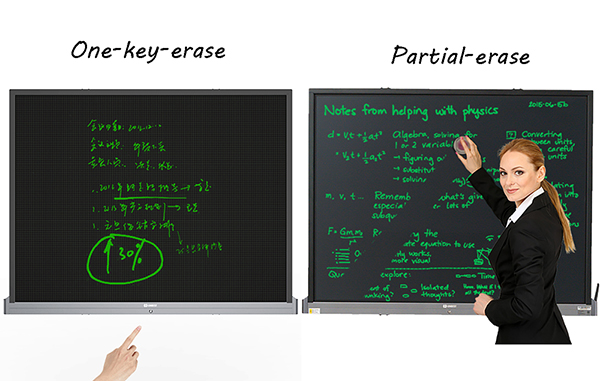 The electronic blackboard adopts pressure-sensitive technology, and writing becomes a new experience. The device accurately captures every stroke and stroke change to ensure smooth and natural writing. Different strengths will have different thicknesses and accurately restore handwriting.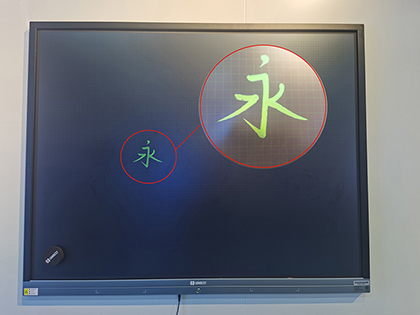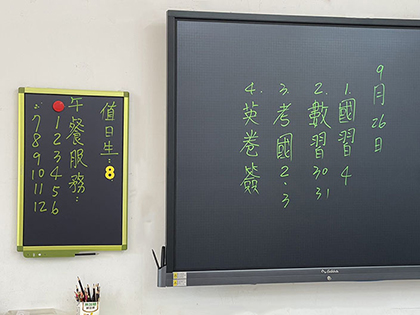 The electronic blackboard operates efficiently and continuously, requiring no electricity for writing and displaying. Only the minimum amount of weak current is used when erasing. In order to ensure that it can also be used in a power failure, the electronic blackboard is equipped with a built-in rechargeable lithium battery. When fully charged, the battery lasts for about three months, providing users with a longer period of uninterrupted use. With an efficient power management system, the electronic blackboard provides a sustainable and eco-friendly solution for classroom writing and display needs.
       The E-writing blackboard has a multi-touch function, allowing multiple users to write on it at the same time. With this advanced technology, multiple people can write, draw or interact on the blackboard surface at the same time, promoting collaboration and participation in the education or education field.
       LONBEST Group's E-writing Blackboard has revolutionized the way we teach, enabling an interactive, engaging learning experience while prioritizing eye comfort and environmental sustainability. With its advanced features and durable structure, this electronic writing blackboard is sure to become an important tool for education and innovation, leading the future of education.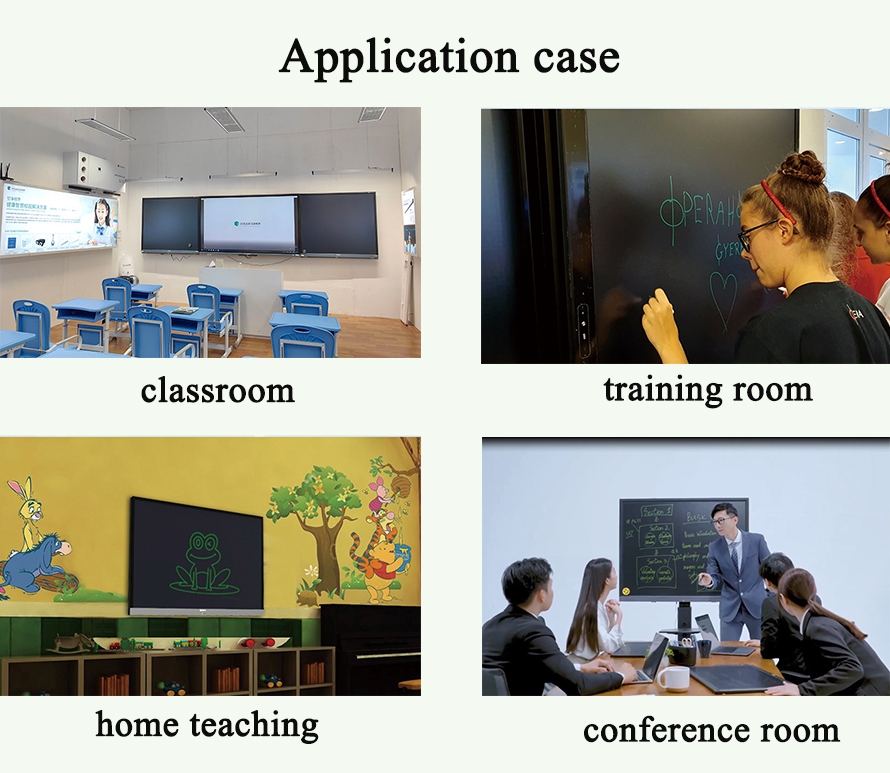 If you're interested in buying our amazing products or solutions, or if you want to have them in your company's offering, contact Jay Yao today!
Telephone: +86-531-83530687 (Rep. No.) 
Email: jay.yao@sdlbst.com
Address: No.88 Gongyebei Road, Jinan, China