90/65/60inch Magnetic Lcd Writing Blackboard Electronic Board
1.  LCD writing blackboard relies on pressure to change the molecular arrangement of liquid crystals.   Any objects can be used as the writing tools, even your finger nail.
2.  Relying on the reflection of external natural light, display green handwriting, no backlight, care for eyesight.
3.  Built-in removable 18650 rechargeable lithium battery, battery capacity ≥ 2600mAh.
4.  The blackboard frame is made of aluminium alloy, sturdy and durable.
5.  The handwriting can be transferred to computer or interactive touch panel, can store data to PDF for sharing.
Contact Now
Product Details
LCD writing blackboard is an environmental friendly product. Completely solved the problem of classroom dust.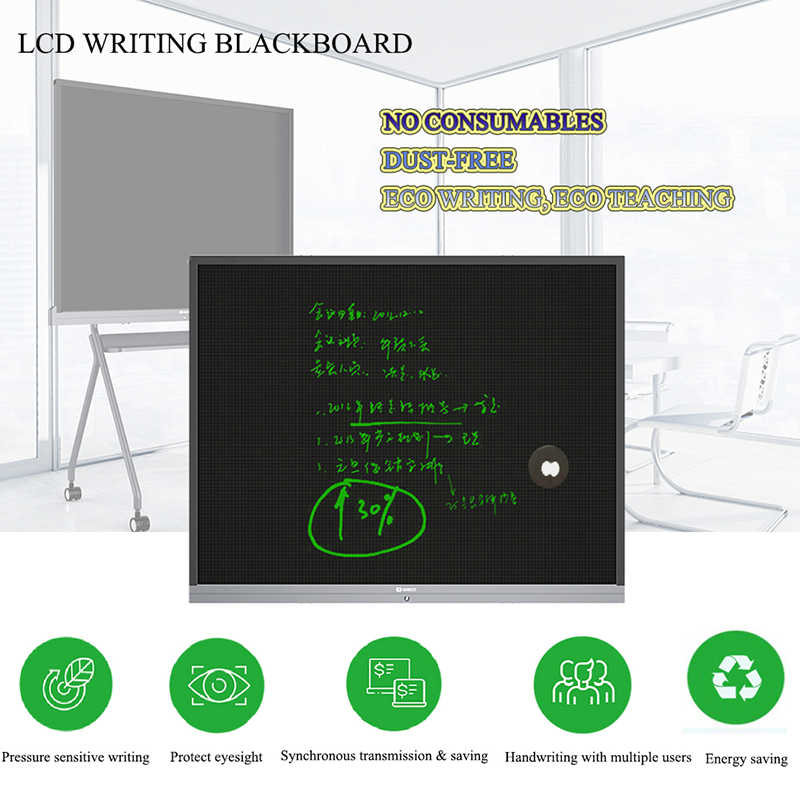 Product Features
---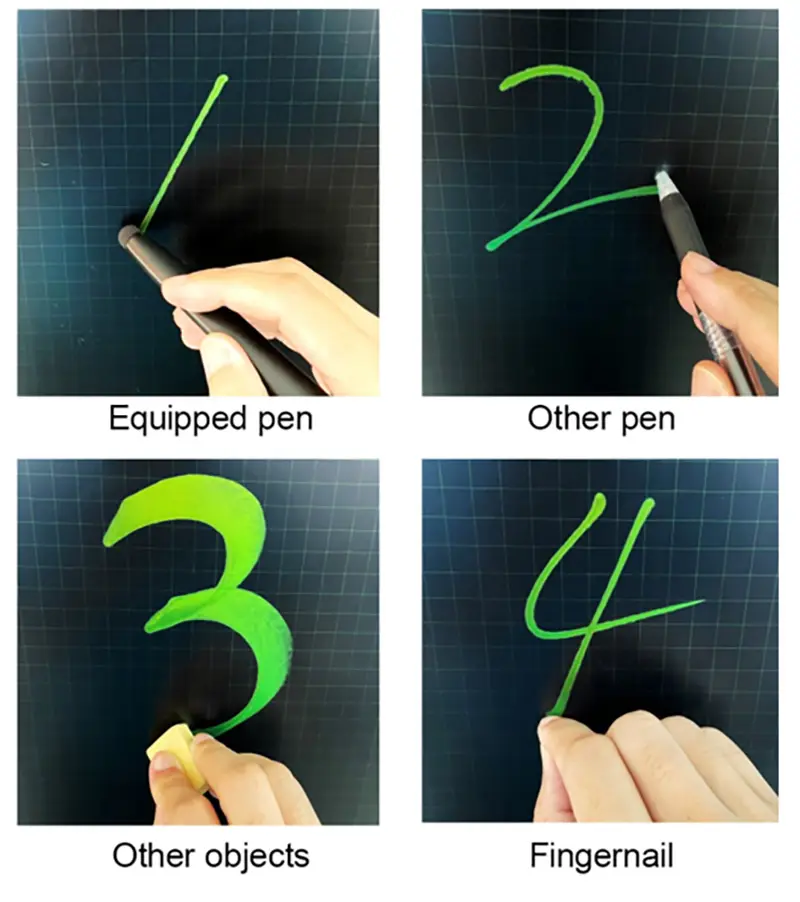 Dust-free & Eco-friendly
Eliminating the need for consumables such as chalks and markers.  Writing can be done with a variety of medium-hard objects, including fingernails.  Prevents dust pollution in the classroom.  It is an environmentally friendly writing blackboard.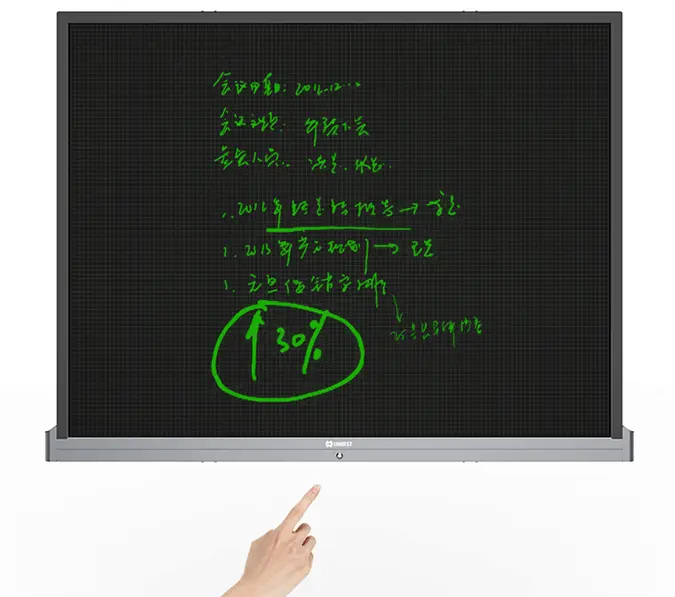 one-key erasing
The one-click erase function on the E-Writing Blackboard is convenient and time-saving.  With the touch of a button, the entire contents of the blackboard are instantly cleared without the need to manually wipe or erase.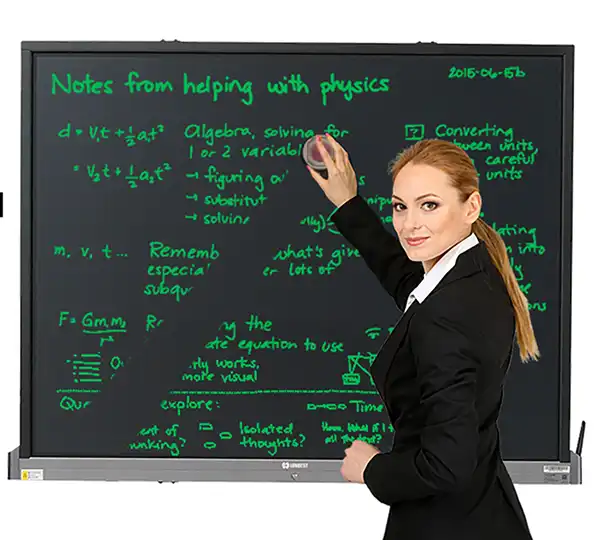 Partial erasing
The Partial Erase function of LCD Writer Blackboard adds accuracy and flexibility to the editing process. Users can easily erase specific areas of content without affecting the rest. This feature is particularly useful for correcting errors, refining details or removing unnecessary information while keeping relevant content intact.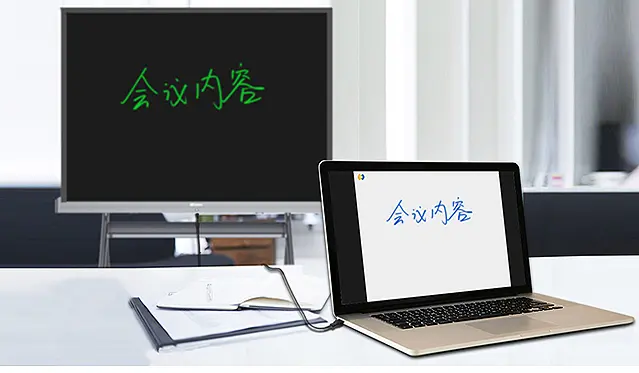 Synchronous transmission & saving
      The synchronised transfer feature of the Electronic Writing Blackboard allows content to be shared in real time with other devices such as computers or electronic large screens, greatly enhancing collaboration and presentation capabilities. With the press of a simple button, the content on the blackboard can be saved as a PDF. This eliminates the need to manually transcribe notes and it adds convenience and efficiency to the workflow.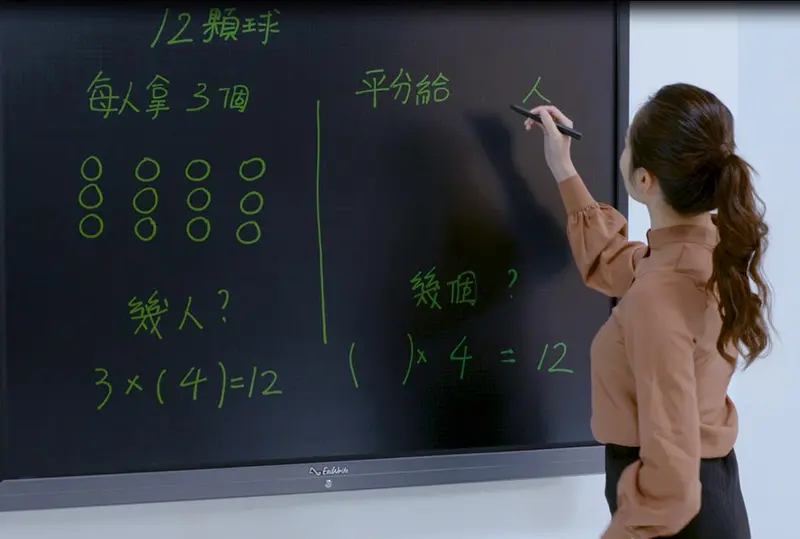 Pressure sensitive writing
      The LCD Blackboard is able to adjust the thickness of the strokes on the LCD Blackboard according to the pressure applied, providing the user with a superior writing experience.  This feature enhances the realism of writing, making it feel more natural and intuitive.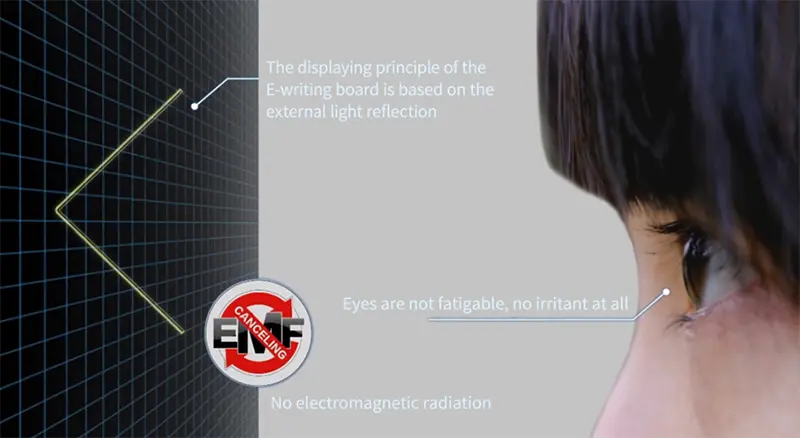 No backlight & No radiation
The LCD writing blackboard's backlight-free and radiation-free design prioritises the protection of the user's eyesight. Relying on the reflection of natural light to form display fonts, it creates a softer display compared to devices with direct backlighting.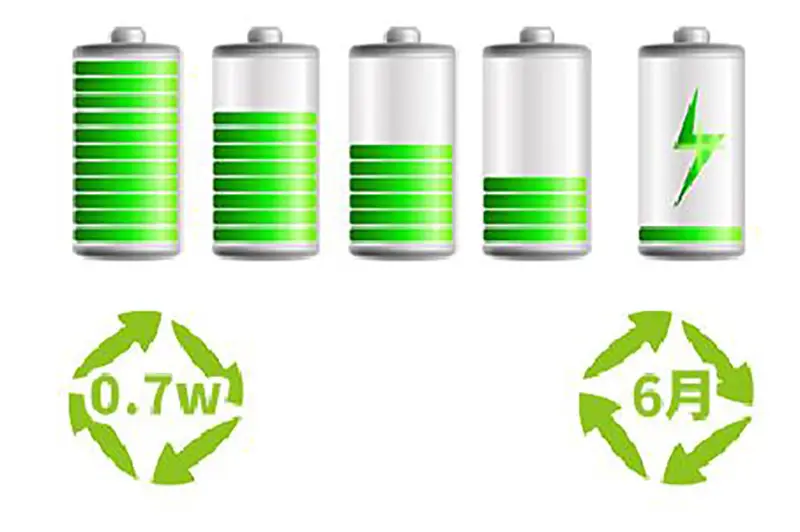 Energy Saving
E-writing blackboard has the advantage of energy saving and environmental protection. No electricity is required during writing and display, and the E-writing blackboard requires a small amount of electricity when erasing content. It is equipped with a built-in rechargeable lithium battery that can be used for at least three months on a full charge.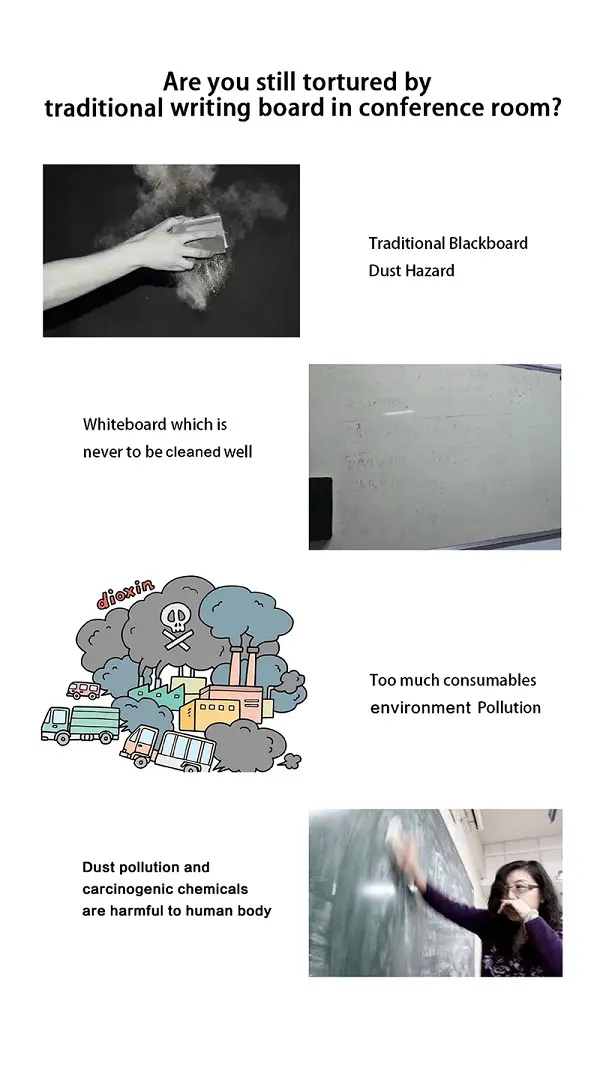 Product specification
---
LCD WRITING BLACKBOARD 

                        Catalogue                                                                            Details

                         Model

                  B60P / 60inch

                 B65P / 65inch

                  Writing Area(mm)

                    1234*943

                 1234*1073

            Physical Dimension(mm)

                1290*1028*28 

               1290*1158*28

             Frame Dimension(mm)

                   26mm(Top/Left/Right Frame); 56mm(Bottom)

                    Film Material

                          Flexible Liquid Crystal Writing Film

                Film Surface Finish

                                      Anti-glare technique

                  Frame Material

                                          Aluminum Alloy

              Frame Surface Finish

                                              Sand Blast

    Erasing Method Erasing Method

                                   One Key Erase / Partial Erase

                Writing Method

                                          Fingernail / Stylus

                     Battery

               18650 Rechargeable lithium battery *1; 2600mA

                       
                    Mounting

                                       Mounting on the wall

             Mounting on Mobile Stand with VESA Standard Bracket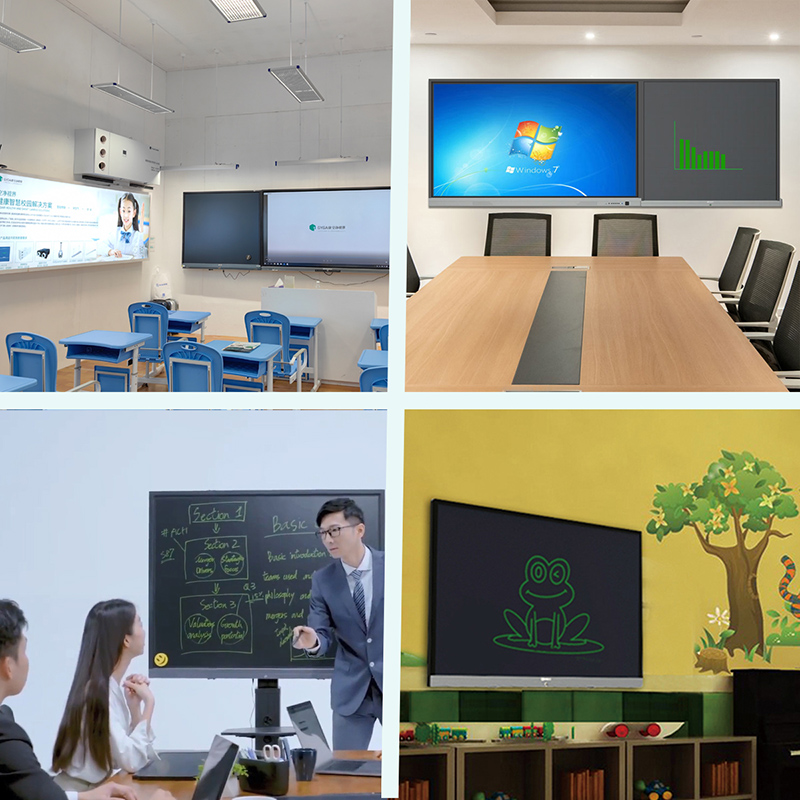 Certificates
---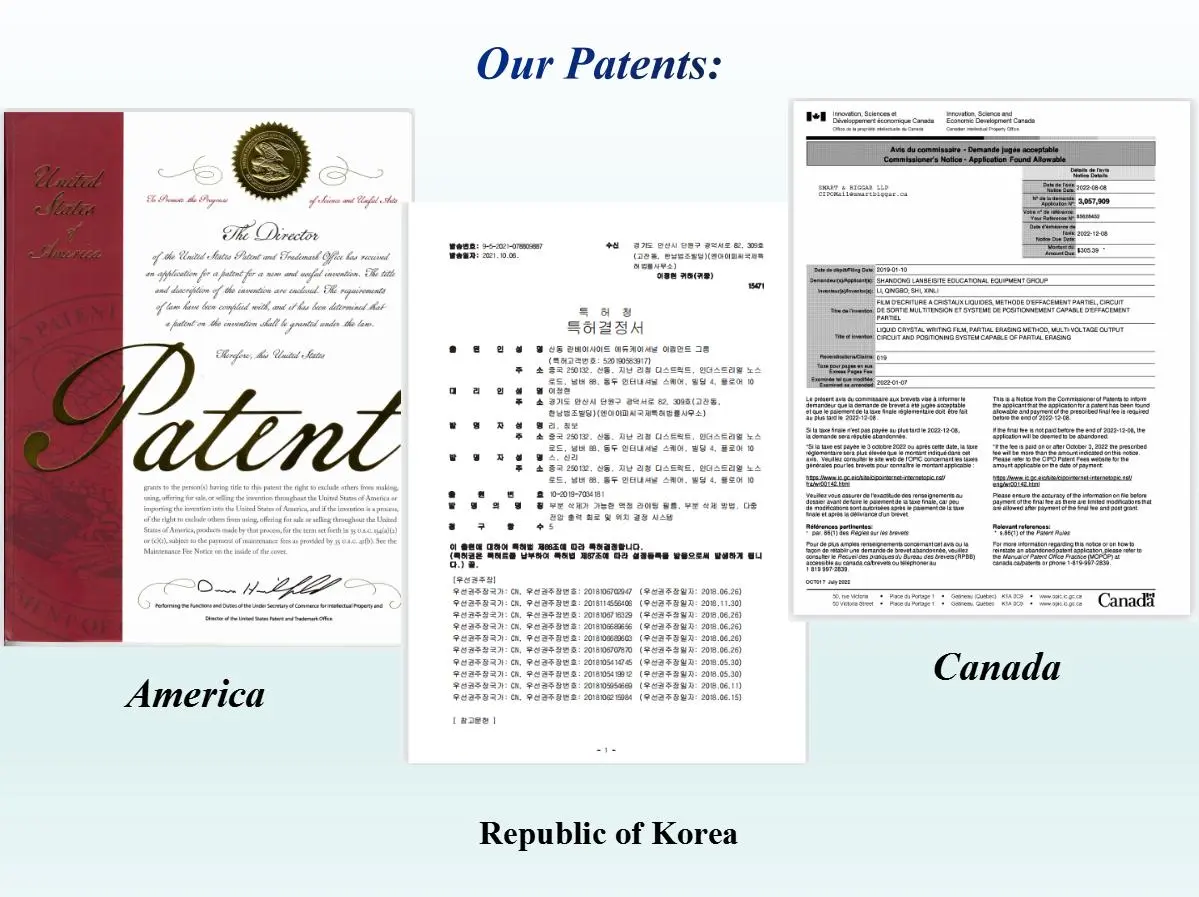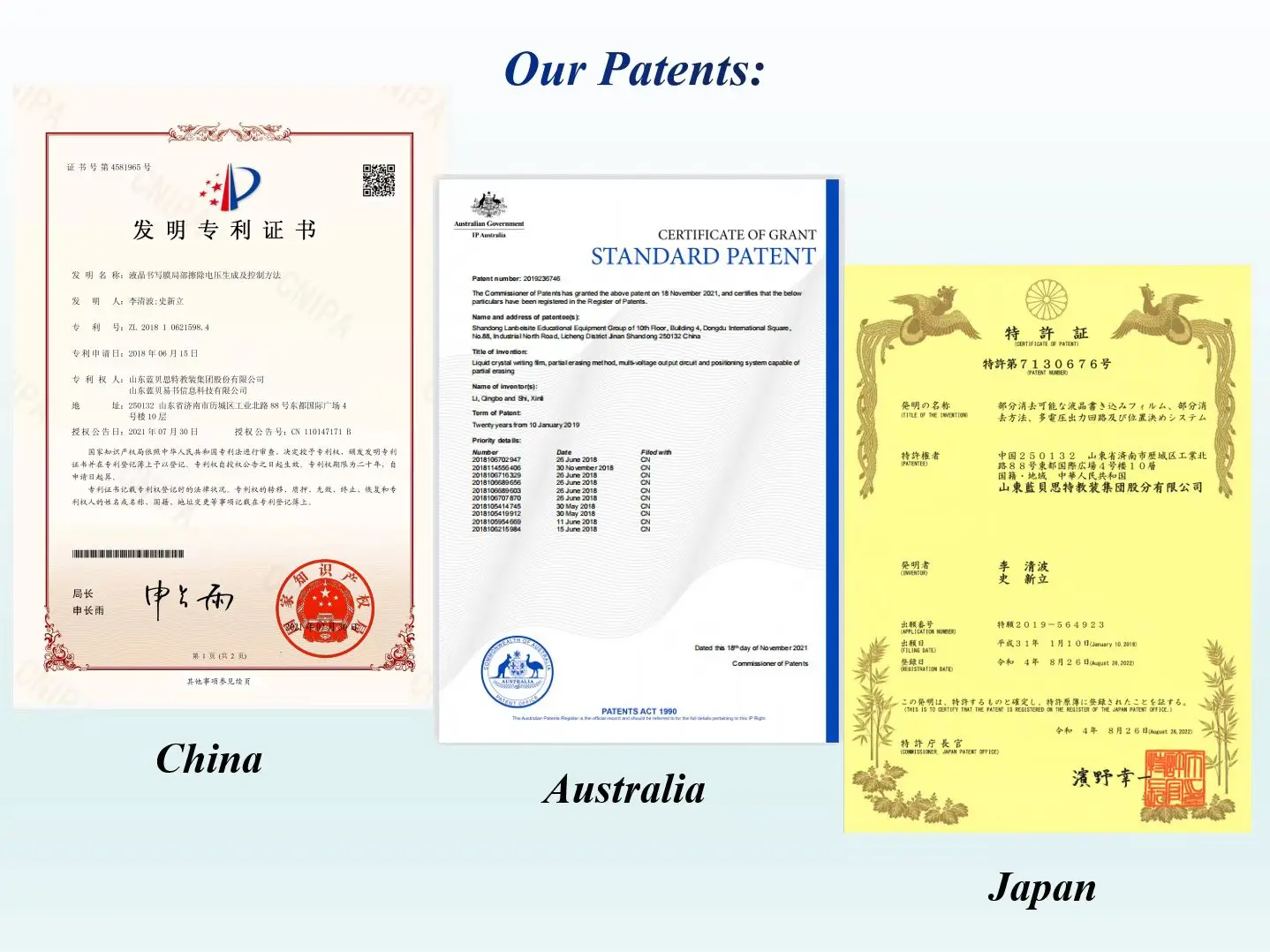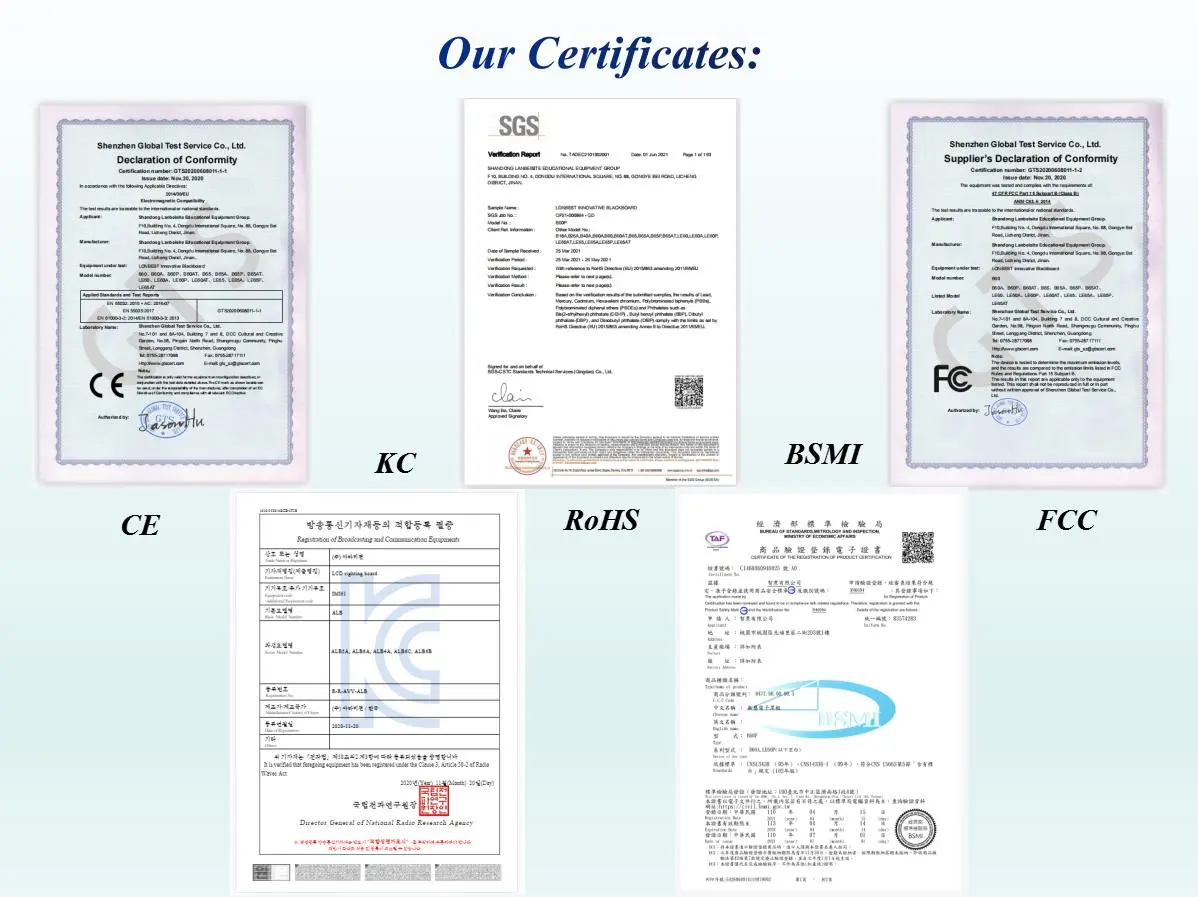 Group Introduction
---
     LONBEST Group was founded in 2005 and is headquartered in Jinan, Shandong, China. It is a manufacturer of blackboards. Dedicated to eliminating classroom dust pollution. The sales network covers 31 provinces, municipalities and autonomous regions in China, as well as a dozen countries and regions in Europe, North America and Africa. Has more than 200 intellectual property rights. The company has invested a lot of money in product research and development, and owns independent intellectual property rights and patented technology, which can ensure that the blackboards reach the leading technology level in the same industry, and ensure that the products reach the customers with quality and warranty. Extra-long 3-year warranty, giving customers more protection.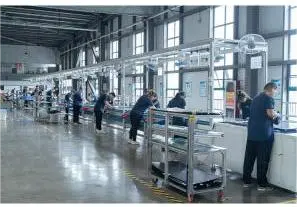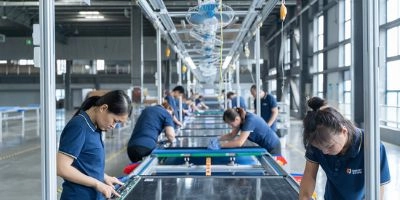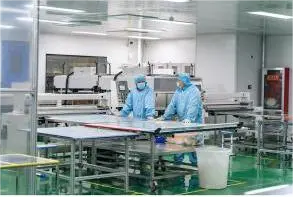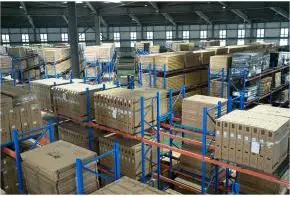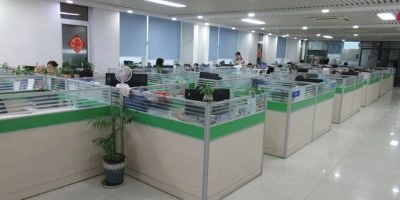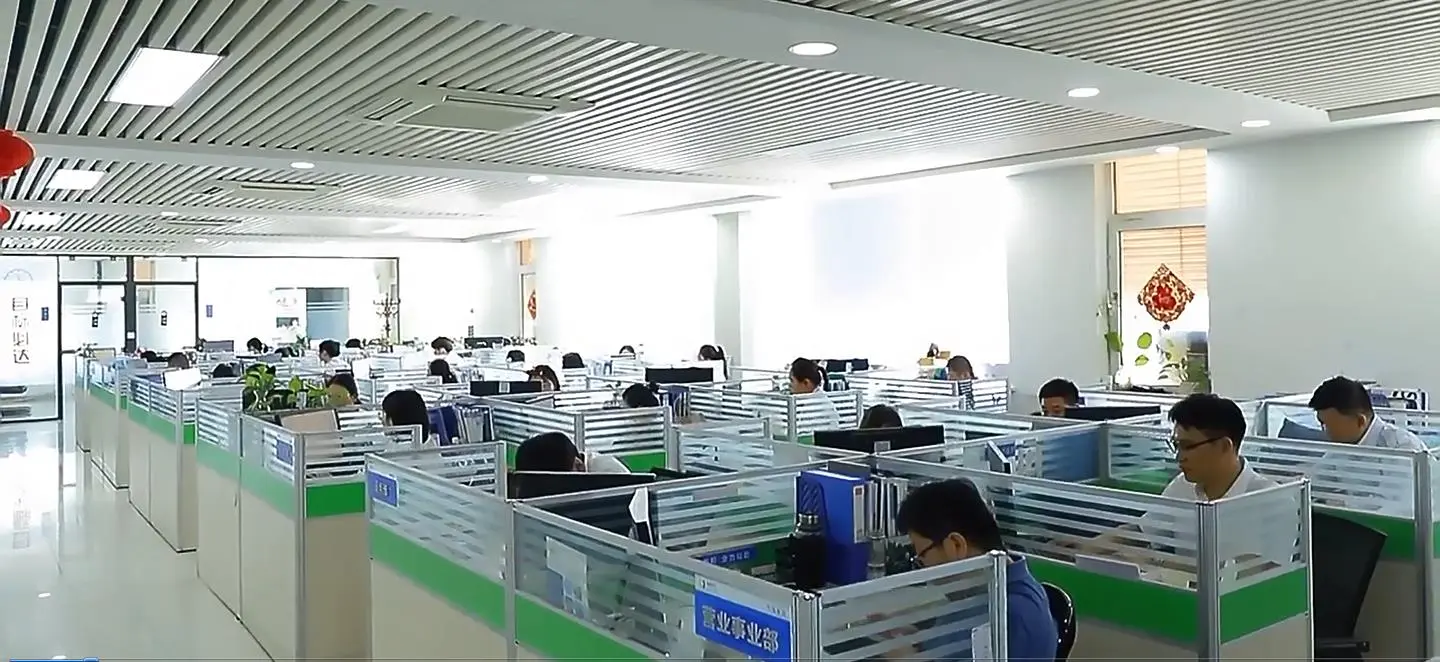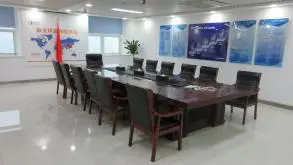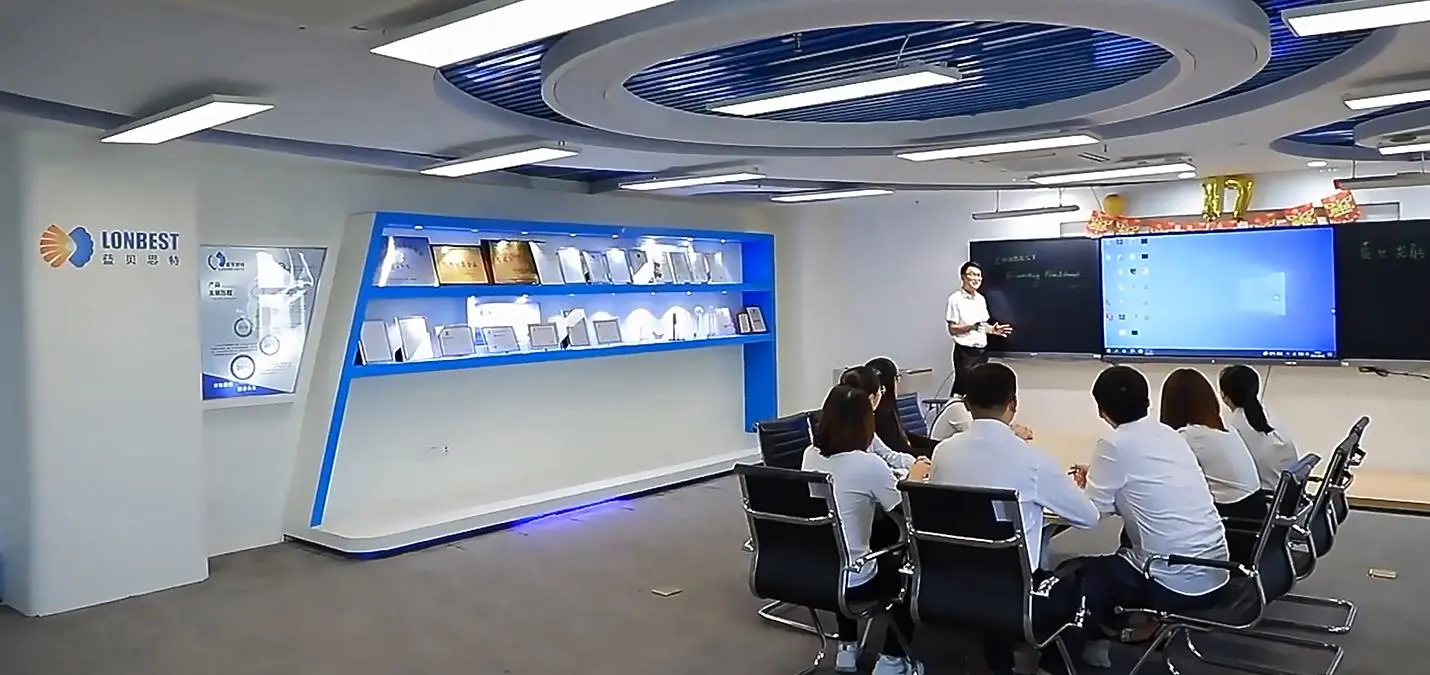 Exhibition Pictures
---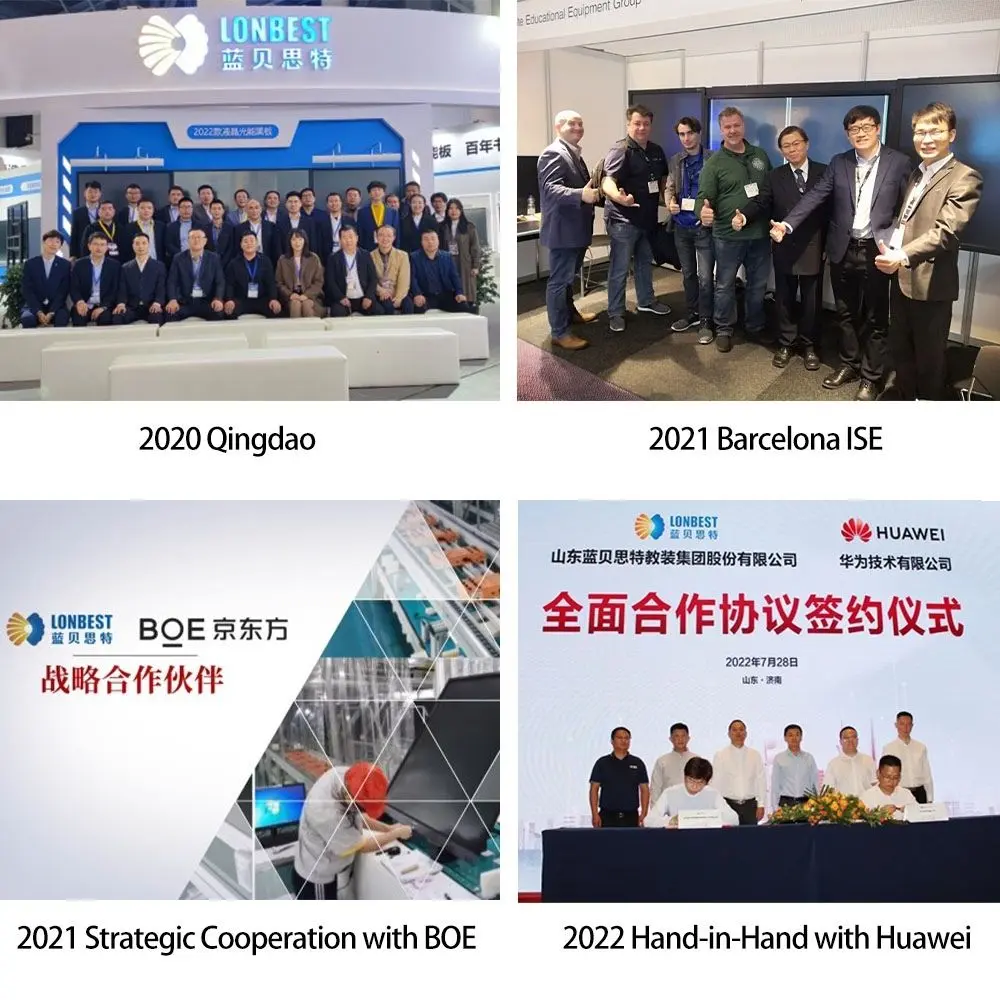 FAQ
---
What are the advantages of electronic blackboard?
The E-writing blackboard offers several advantages compared to traditional blackboards:
1. No consumables: Unlike traditional blackboards that require chalk or ink, the E-writing blackboard does not need any consumables.  This makes it cost-effective and eliminates the need for regular replacements.
2. Versatile writing options: The E-writing blackboard allows you to write or draw with any medium-hard product, including your fingernails.  This versatility adds flexibility to your writing experience.
3. Dust-free: The E-writing blackboard eliminates dust generation, which is beneficial for those with allergies or respiratory sensitivities.  It helps maintain a cleaner and healthier learning environment.
4. Anti-glare protection: The blackboard's surface is covered with an anti-glare protective film.  This enhances durability and provides a high level of transparency, ensuring that information written on the board is clearly visible from various angles.
5. Real writing experience: The E-writing blackboard is designed to reproduce handwriting accurately.  This ensures a realistic writing experience, similar to writing on paper, making it comfortable and familiar for users.
Overall, the E-writing blackboard offers a cost-effective, environmentally friendly, and user-friendly alternative to traditional blackboards while providing excellent visibility and a true writing experience.