65" Dust-free E-Blackboard Match With Huawei 86" Smart Screen
1. The overall structure adopts the combination of left and right E-writing blackboard + middle touch all-in-one machine, and the colors of the upper and lower borders are consistent with the all-in-one machine. The product size of a single E-writing blackboard teaching board is ≥1290 (length)*1157 (height) mm.
2. The E-writing blackboard relies on pressure to change the arrangement of liquid crystal molecules. It can be written on any object with moderate hardness without any consumables. It eliminates dust pollution and eliminates the health hazards caused by dust to teachers and students.
3. Under the irradiation of natural light, it can reflect the light source of fixed band to display the handwriting, non-backlit image or projection image, the eyes are not easy to fatigue after watching for a long time, and the eyesight is taken care of.
4. Equipped with special writing tools to fit teachers' writing habits.
Contact Now
Product Details
The electronic blackboard does not require disposable consumables, does not generate dust, is healthy and environmentally friendly, and has an independent design of product appearance, which is perfectly compatible with Huawei's 86-inch smart screen.

Products Specifications
---
                LONBEST E-writing Blackboard

Model

 LE65P-HW02

Dimension

              65"

 (1290*1158*29mm)

Match IWB size

 85"

Display 

 Flexible liquid crystal molecular 

Writing tools

 Equipped writing pen or any hard objects 

Erase method

 One-key-erase and partial erase

Frame material

 Aluminum alloy

Battery type

 2600mAh (18650) 

Adapter Voltage

 12V / 1A 

Package Method

1 set / carton (1set = 2pcs)
Product Features
---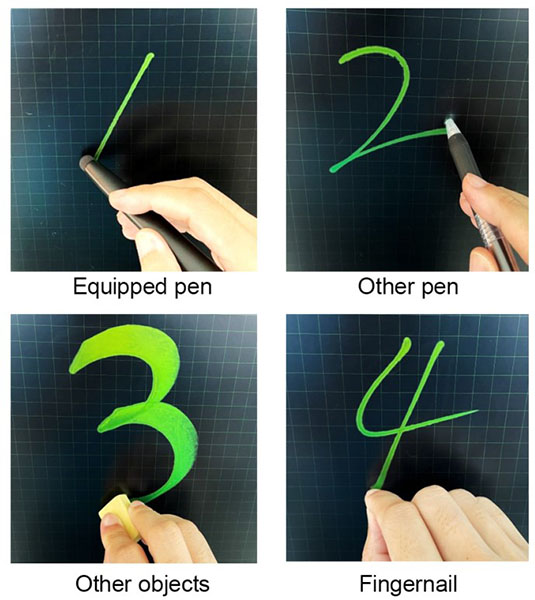 Dust-free & Eco-friendly
This product does not require disposable consumables such as markers and chalk for writing, which means that no dust will be generated and no garbage will be generated. It can be written with any hard object, such as eraser, fingertip, etc. You can write without using electricity, and you can write anytime, anywhere, which is convenient and fast.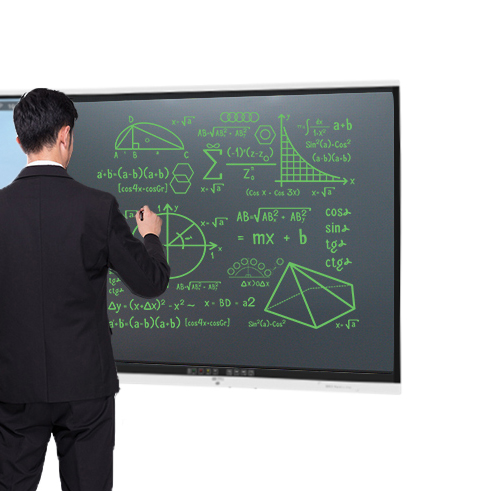 Principle of writing
The blackboard relies on pressure to change the arrangement of liquid crystal molecules, and can sense the writing force. The font will have thickness according to different forces, bringing people a real writing experience.
Handwriting with multiple users
The blackboard has multiple writing points, just like the traditional blackboard, allowing multiple people to write at the same time.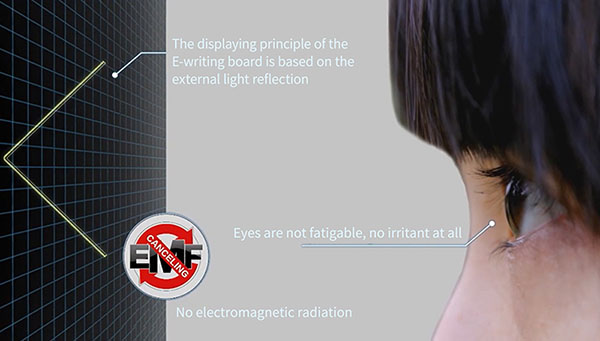 No backlight & No radiation
The writing on the blackboard is formed by reflecting the fixed band (green), and can be displayed without electricity, no electromagnetic radiation, no damage to the eyes, and protect eyesight.
 Energy Saving Eco-Friendly 
This is an electronic blackboard that does not require electricity to write on the display, but only uses a small amount of electricity when erasing. And equipped with rechargeable lithium battery, can be recharged to use, energy saving and environmental protection.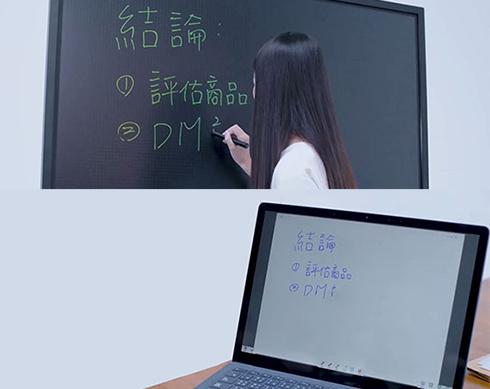 Synchronous transmission & storage
 When writing on the blackboard, the content can be transmitted to the display screen simultaneously. And you can save the blackboard writing content as a PDF document with one click, convenient for subsequent viewing.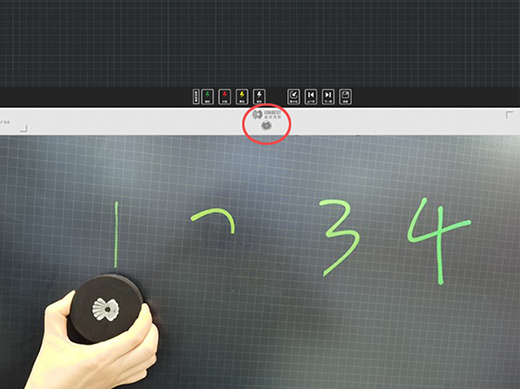 Methods of Erase
Electronic board erasing can be divided into one-key erasing and partial erasing. You can choose to erase the content you want to erase, easy and fast.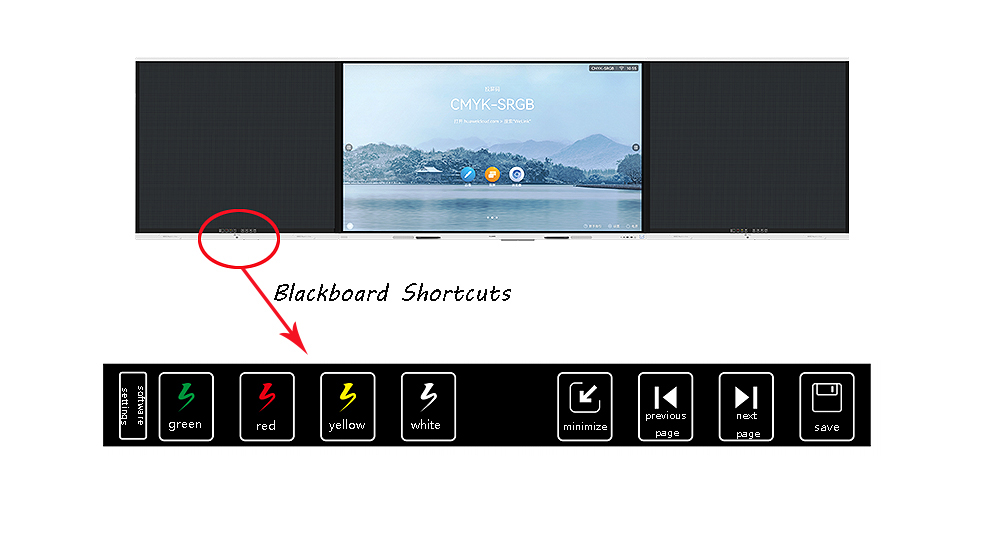 Color switching
Different handwriting colors on the software side can be set, which can realize the teacher's identification and annotation of teaching points.
Blackboard writing record
 The teacher's blackboard writing can be synchronized to the software interface; after pressing the clear button, both the writing on the board and the software can be cleared; click "Previous Page" to retrieve the deleted blackboard writing.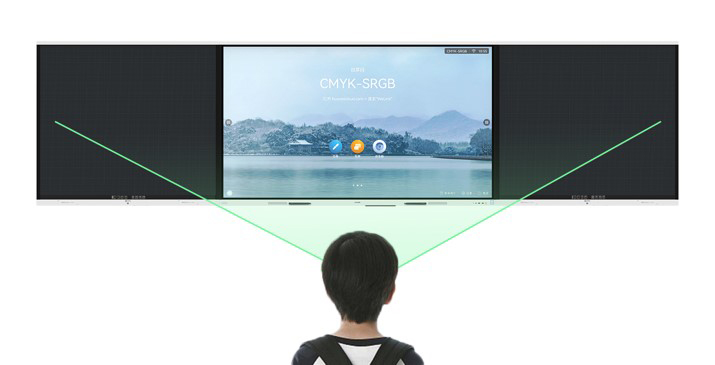 Long viewing distance
The writing content is clear and bright, the viewing distance is up to 30 meters, and the viewing Angle can reach 140 degrees. You can see it clearly even in a very large classroom.
Application Case
---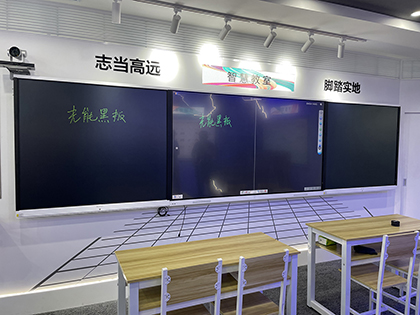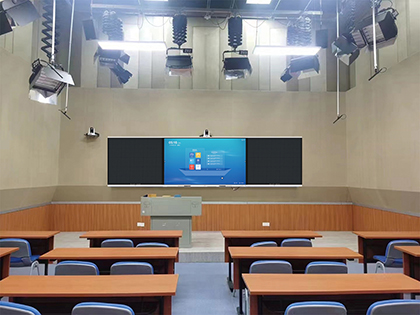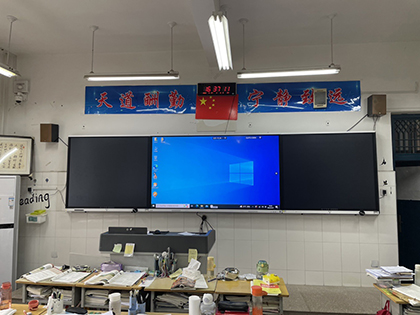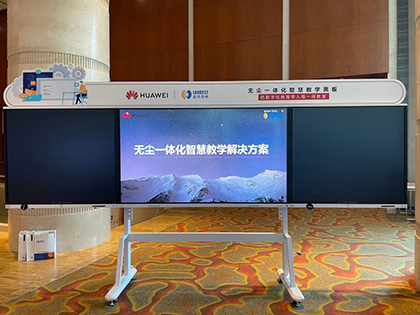 Company Introduction
---

Shandong Lanbeisite Group was founded in 2005, has been in the blackboard industry for 17 years, is specialized in blackboard service providers, is the source manufacturers, there are more than 200 intellectual property rights. At present, the company has more than 300 employees. At present, the main products are sliding blackboard/whiteboard, electronic blackboard and other products, there are many models to choose from. If you need to customize, you can also contact us, we have a professional R & D team and product team, can do our best to meet your requirements.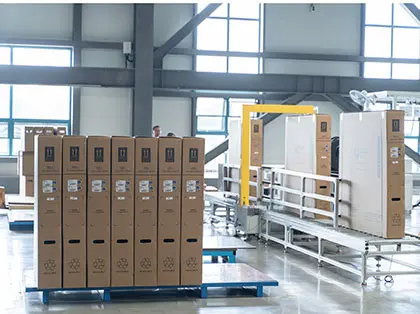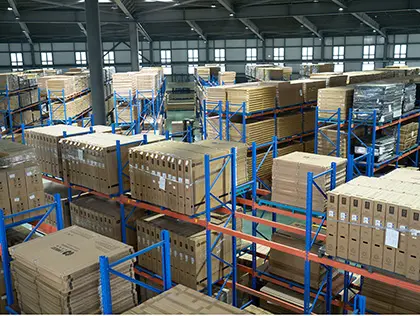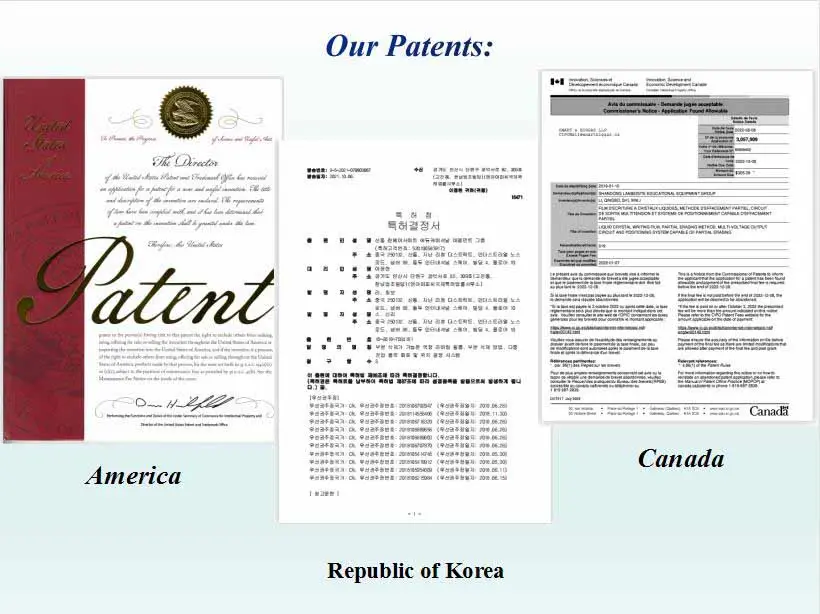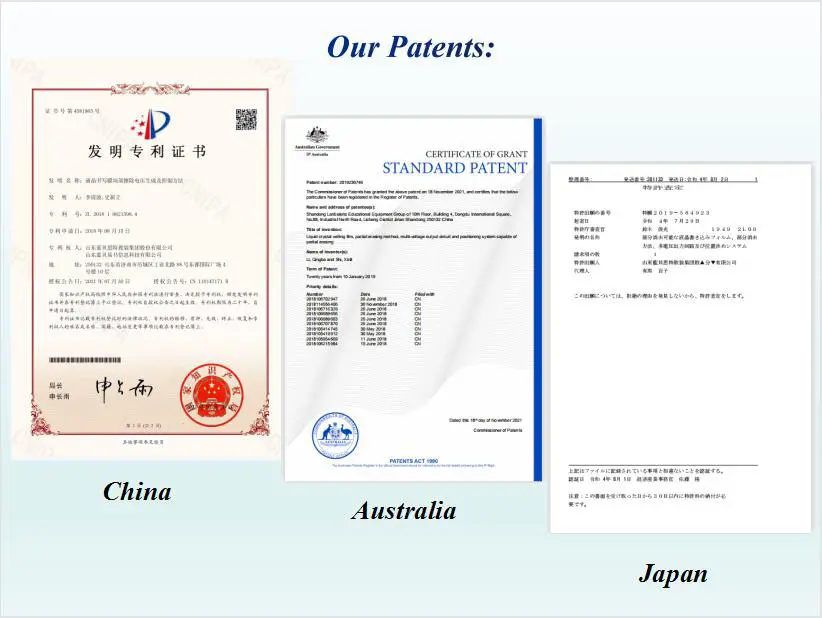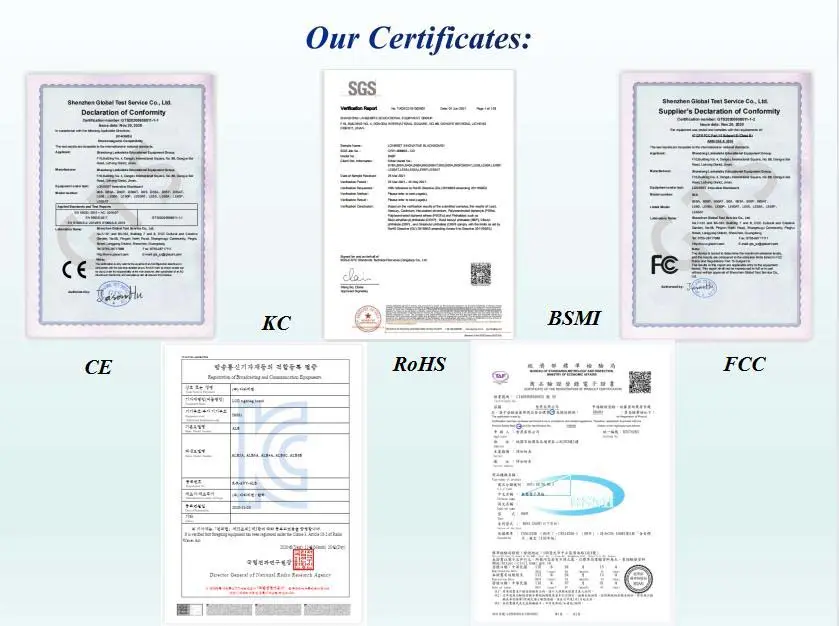 Exhibition
---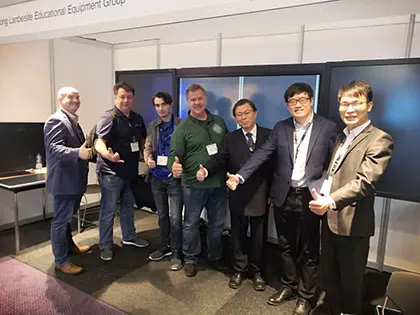 2020 Qingdao                                                                       2021 Barcelona ISE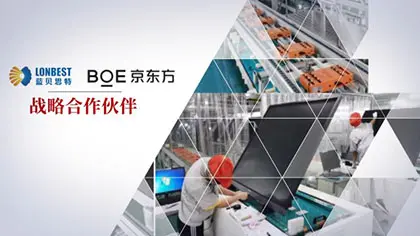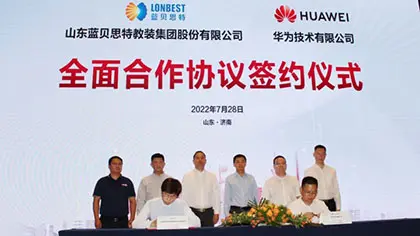 2021 Strategic Cooperation with BOE                                           2022  Hand-in-Hand with Huawei                      
Certifications
---


Product Packaging
---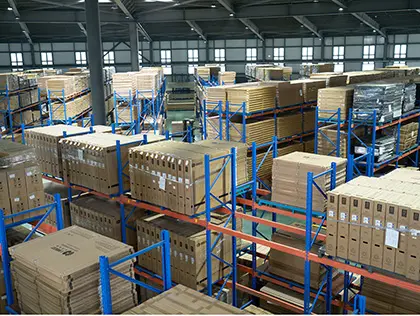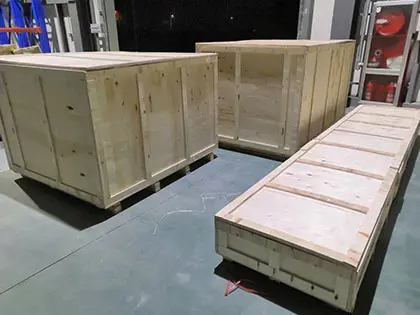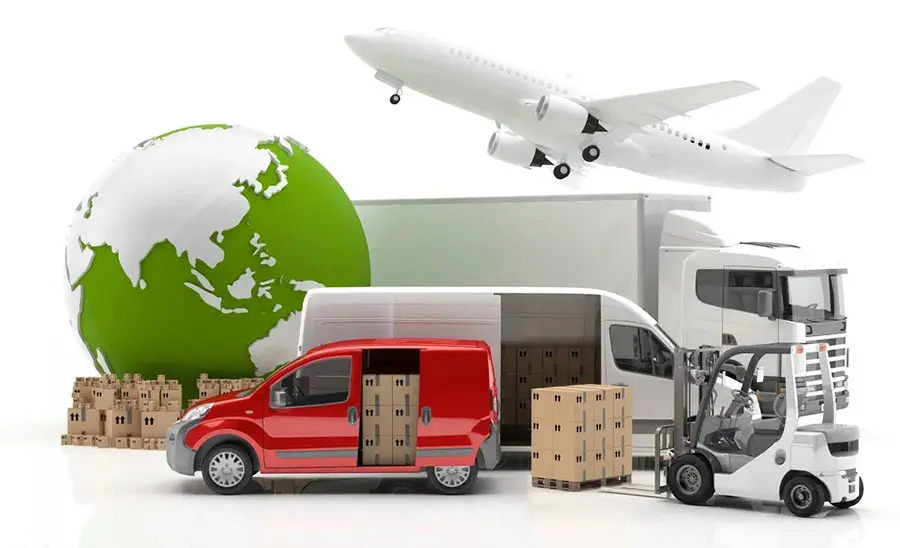 FAQ
---
Is the quality guaranteed?
We have a three-year warranty period, during which you can contact us if there is any problem. During the production process, we have a quality inspection team to check one by one, and we will check again before shipment.